Carpet vs. Hardwood. Why choose when you can have both? When considering whether to have hardwood or carpet installed in your home, keep in mind there are some great reasons for having both hard and soft surfaces in different areas. In addition, you can always combine hardwood flooring with an inviting area rug.
Living rooms, family rooms, dining rooms and halls are where long lasting hardwood flooring is traditionally installed. The luster of warm wood tones are most welcomed in your main living areas where the character and durability of hardwood will always turn out to be a good investment. Keep in mind that hardwood flooring always tops the list of features that house hunters are looking for.
Hardwood flooring won't date or go out of style like other surfaces, it has a timeless appeal. Hardwood is also relatively neutral, which allows you to update wall colors, furnishings or other room décor for a fresh look without ever having to update your flooring. While hardwood is beautiful and can suit all areas of the home, some of us prefer a softer surface in "quiet" areas like the bedrooms.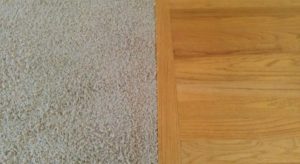 Carpet and carpet padding absorb noise so you can sleep soundly. Carpet also provides comfort and warmth underfoot, and these are features that contribute to a restful room.  It's also wonderful to feel a cozy carpet underfoot on a cold New England morning! Just keep it neutral for optimum decorating flexibility. Carpet, pad and installation is also much less expensive than hardwood, with the exception of a premium natural wool carpeting.
Visit Earth First Flooring to see our current Sales on Hardwood and Carpeting. Or, you can also request a free measure and estimate and we'll bring samples to you! Free Estimate