It's a great time to shop for laminate flooring with our January Special: Laminate flooring from $1.99 SF. Quick Step laminate flooring offers our customers a wide range of styles and price points and best of all it is safe for the Environment: Inside and Out. Quick Step is also the best quality laminate the industry has to offer!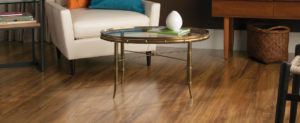 If you want an exotic look but want to purchase eco-friendly products then laminate is a great choice since no exotic trees are harvested to create the floors. Many of the products are so realistic it is often hard for customers to tell the difference between Quick Step laminates and real wood flooring. Laminate boards are made of 70% pre-consumer recycled wood fibers and chips from sustainable resources. All Quick Step floors are FloorScore Certified and have passed one of the most stringent indoor air quality certification programs in the world. Quick Step floors are manufactured in accordance with CARB Phase 2. The patented locking system is also one of the best in the industry, making installation easier for a do-it-yourself project. However, we offer professional installation with a lifetime installation guarantee.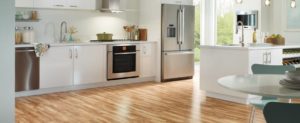 Another benefit to Quick Step laminate flooring is superior performance. From start to finish – core board to completed flooring – Quick Step controls the entire manufacturing process. Quick Step flooring is created in the USA, and the company is proud to keep jobs in the USA. The flooring is also NALFA (North American Laminate Flooring Association) certified and has passed rigorous testing designed to evaluate performance durability, strength and overall quality.
Visit Earth First Flooring to see samples of the entire collection, and visit the Quick Step website link below for great design tips and tools from designer Erinn Valencich. They even have an app called "Style My Floor". https://us.quick-step.com/