You can achieve a custom look for your home or business with our natural Marmoleum products installed with a craftsman-like Inlay! This technique has been used for centuries to create custom wood furniture and decorative metal objects. Inlay offers you the opportunity to create a one-of-a-kind custom floor, and our experienced staff can help you design it!
Inlay technique requires considerable skill, so we highly recommend professional installation. Most installers and contractors do not have experience with Inlay. But, Earth First Flooring has a highly experienced Marmoleum installer with years of Inlay experience.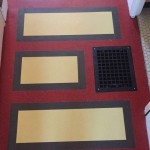 While a custom look can be very appealing, in and of itself, there are even more important reasons why natural Marmoleum (all natural linoleum) is such an outstanding product:
Inspiring you with color – the beautiful colors found in nature have been the inspiration behind Marmoleum designs. Come to Earth First Flooring to view the Marmoleum Color Wall, full of options that range from Vibrant and Bold, to Soothing and Subtle. A unique, one-of-a-kind floor for your home is just a creative idea away! The photo at right, demonstrates how one homeowner chose to play off of a floor grate rather than try to hide it!
Inspiring you with quality – Marmoleum is a high-quality product that makes an ideal flooring for any room in the home, from the hallway, kitchen and bath, where traffic is likely to be heaviest, to the living room, study or bedroom. And because of the natural ingredients found in Marmoleum, the product continues to harden and become more durable over time.
Natural Marmoleum is not only a stylish investment for your home, it supports good health, hygiene and sustainability. Our customers love that it is a 100% natural, anti-microbial and hypo-allergenic product that's installed with a no VOC (volatile organic compounds) adhesive.